SWEAT BELT WAIST TRIMMER
Regular price
Rs. 1,099.00
Sale price
Rs. 699.00
Unit price
per
Sale
Sold out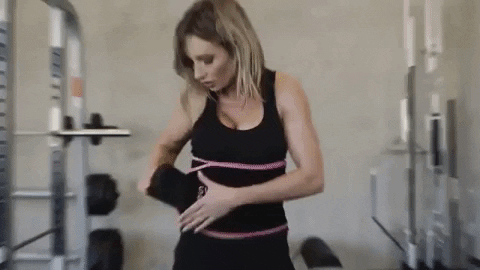 The sweat belt works to increase your heat and sweating whilst you exercise so that you get the most out of your workouts for getting in shape. Read on to find out more…
What Is A Sweat Belt?
People who want to lose those additional pounds must understand the fact that the best way to lose weight is through regular exercise and a well-balanced diet. There is no other way especially a quicker or a shorter form.
However, a sweat belt can be a great addition to your daily workout sessions.
A sweat belt, in short, is an ergonomically designed, unisex neoprene body shaper workout belt that is designed to be put on tight around your stomach area during exercises.
It works by insulating your tummy area with the best quality fabrics, which raises your core internal temperature whilst you workout.
You can fasten these belts around your waist and enable your body to sweat off the surplus water from the stomach region. When the body gets rid of the surplus water, you lose the water weight thus contributing towards weight loss.
How Does A Sweat Belt Work?
The raised belly temperature from the sweat waist trimmer means that exercise is more strenuous and challenging, and this is great for raising your performance level to its best.
Sweat belt reviews speak for themselves and show they're also great for weight management as the increased heat and sweat loss enhances the impact of exercise and targets belly fat.
The Sweat Belt for stomach insulation is ideal for either indoor sports or outdoor sports and can easily be slipped on under workout clothes with ease.
8 Benefits Of Wearing A Sweat Belt
Wear anywhere, any time
Deceive your body appearance
Get slimmer
Reduce stomach fat
Improve posture
Manage eating habits
Lumbar support
Detox your body
How To Use
As essential weight loss equipment, sweat belts are very straightforward and easy to use.
If you've bought your new waist trimmer belt, you will find it's rolled and packed inside the box. Unroll until it is completely stretched out. Hold both ends of your belt and make sure that the darker side or the black side is on your back.
If possible, wear a thin spandex shirt on your skin and then wrap this belt around the stomach area.
Now bring the belt in the manner that the darker side is touching your lower back and pull the non-fastening side of your belt around your belly until the belt covers the front side of your stomach.
Now you can wrap the fastening end of the belt around your torso and push the fastening side onto the non-fastening side. Make sure that the sweat belt is secure and you're comfortable wearing it.
Here are some extra tips for wearing sweat belts:
The closure should be reliable.
When you close the hooks, the belt should pull your waist close enough, but it shouldn't protrude.
Make sure you don't feel pain after wearing it.
Don't wear it too tight.
Don't wear it for too long – wear for less than 2 consecutive hours.
Keep your body hydrated while using the sweat belt.
Don't use the sweat if you are pregnant and have undiagnosed abdominal or back pain.
You can get a straighter look when you wear it under your shirt or blouse.
Remember…
You don't have to go outside of your comfort zone or put yourself through a lot of pain when trying to lose weight.
Although using a sweat belt is a practical way to lose weight, it shouldn't be used just on its own – wear the belt with healthy nutrition and regular exercise to further support your weight loss process.
TAKE ADVANTAGE OF THE REDUCED OFFER!
Why buy from DailyDart.in, instead of others? 
We work directly with manufacturers all over the world to ensure the best quality of our products. We have a Quality Control department which helps us to keep our promise!
Price is always competitive.
Awesome Customer Service

Amazing products 

along with 

High Quality 

Read reviews from our lovely customers
RATING: 
4.82/ 5 
(565 REVIEWS)
Share
Shipping

5 to 7-Day Express Shipping Anywhere In The India!

Shipping Rates :

For prepaid orders : We charge no shipping and handling fee.

Order Processing : 

We strive to fulfil orders as soon as you place them . In most cases , your order will be send to our delivery partner within 1-2 business days . Our business days are Monday - Friday . 

Shipping Time :

For most serviceable pin codes , we try to deliver within 7 days . But due to unforeseen circumstances like weather, strikes, remote locations, stoking issues, or any other reason - it may take longer . You will however be able to track your package using a unique tracking link that we will email/SMS you after your order is sand to our delivery partner . 
Return policy

7-Day Returns

Not 100% In LOVE With Your Purchase? Send It Back Hassle Free!
FREE Shipping across the Country!!

7-Day Express Shipping Anywhere In The India!

7-Day Returns

Not 100% In LOVE With Your Purchase? Send It Back Hassle Free!

24/7 Customer Support

Got Questions? We Got Answers! Just Email Or Connect WIth Us On Chat Box!